The perfect grooming brush for your dog!
A well-kept coat is important for your pet's well-being. This double-sided care brush is perfect for removing knots in the dog's fur, leaving it smooth and silky after each trim. Perfect for all coat types, including thick, long and matte hair!
Make your dog look and feel good!
✔ This brush makes it easier than ever to groom your dog. Brush through the dog's hair and see the difference immediately!
✔ Easily removes knots, tangled hair and dead undercoat with just a few steps.
✔ Perfect for all types of dog hair. Long, short, thick, wavy hair, you name it!
✔ Safe to use. Our brush has a state-of-the-art bristle design that takes care of the dog's hair without damaging the dog or cutting the skin.
✔ Easily clean the brush under running water for your four-legged friend's next brushing.
We recommend this dematting / deshedding tool for all of our new Goldendoodle owners and any owners of pets that shed or get matted. The double sided rake has 17 rounded blades on one side and 9 blades on the other, allowing you to get a tighter or wider rake of fur depending on the situation. We find the 17 bladed side is best for really digging into mattes and pulling them apart, while the wider 9 bladed side is best for removing loose fur. It's also great for any pet with medium to long hair. Even cats!
Our Dogs love it!
We have four Golden Retrievers and they are picky about their brushes and hate certain tools. If you know how bad Golden Retrievers shed, then you know how important it is to have a tool that can get that loose hair off. This deshedding comb is a GOD send, and why we have it listed on our site as our #1 must have product for all pet owners with medium to long hair.
If your dog doesn't like to be brushed, then he/she likely won't sit still while grooming. It makes brushing and grooming a major pain in the butt. Our dogs LOVE this dematting comb. The rounded blade edges have a massaging effect that keep them still and happy. Now when we get the brush out, our girls get as excited as if we were going to take them on a walk or to the park!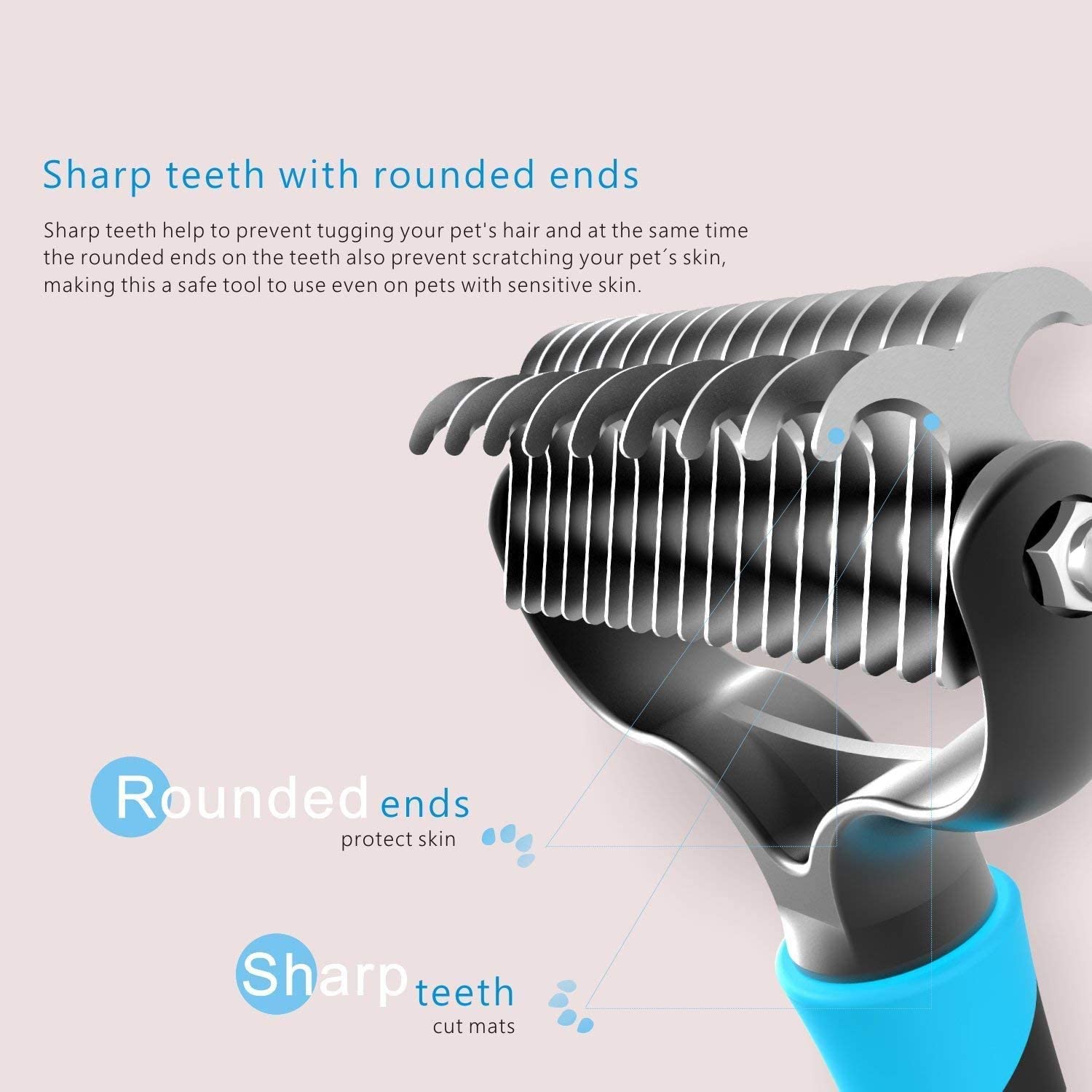 Matted Goldendoodle?
Goldendoodles tend to get matted in the most sensitive areas behind their ears and under their legs. This tool allows you to really get in there and pull the mattes out without hurting them. We recommend using this brush on problem areas at least once a week to keep them from getting matted and avoid needing to be shaved. Seriously, just 10-15 minutes, once a week with this brush will keep your doodle from getting matted!
This dematting comb is not just for Golden Retrievers, Poodles and Goldendoodles. It works on any pet with medium to long hair!