Get a Dentist Approved Smile From the Comfort of Your Home!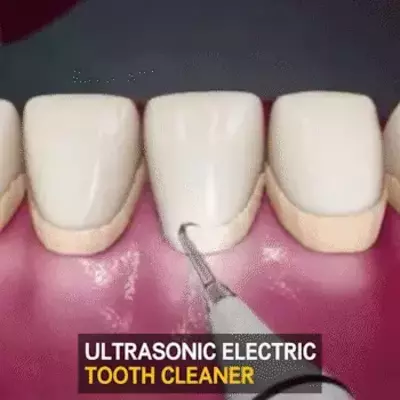 Dental Care with Healthier Gums: Electric Ultrasonic Tooth Cleaner can effectively separate dental plaque, dental calculus, and stains, removes hard tartar easily from the teeth preventing gum disease.
Portable Design: Electric Ultrasonic Dental Calculus Remover is convenient to have dental care at home, remove the attachment on teeth in time. The low-cost solution in comparison to the dentist and ideal to keep it handy in the bathroom or to take with you when you travel.
Electric Ultrasonic Scaler Tooth Calculus Remover Cleaner: Ultrasonic vibration, intelligent high-frequency vibration, can vibrate 10800 times per minute.
Electric Dental Calculus Remover: The integrated design of the fuselage integrates the contents of the traditional host into the handle, which is more convenient, easy to grip.
Portable Electric Sonic Dental Tooth Scaler Tooth Calculus Remover: Medical grade alloy steel easy to remove calculus, tea stains, smoke stains.
Electric Teeth Cleaner Ultrasonic Dental Calculus Stain Remover: IPX6 waterproof level, use cleaning to be healthier, suitable for daily use.
Product information:
Power type: USB
Color: ultrasonic electric teeth cleaner White, ultrasonic electric teeth cleaner Black
Gear: 3 gear
Battery capacity: less than 800mAh
Motor type: magnetic suspension motor
Packing list:
Electric toothbrush tooth set*1
Product Image: